Avian Influenza Notice - September 2022
The Avian Influenza Risk Level in Alberta has recently been changed to RED. 
Alberta currently has several municipalities experiencing avian influenza outbreaks in poultry operations. This currently includes Strathcona County.
There is an extremely low risk to human health and no risk to food safety. The disease can be spread to farmed flocks during wild bird migratory season.  Wild birds, especially waterfowl, are natural reservoirs of influenza viruses. They are not normally affected by the disease, but can still transmit it to domestic birds.
Highly Pathogenic Avian Influenza (HPAI) is managed by the Canadian Food Inspection Agency and Alberta Agriculture Forestry and Rural Economic Development. HPAI is a reportable disease, so if you suspect or confirm a case in your flock, you must report it to the provincial and federal authorities. 
Resources:
Last modified: March 9, 2023, 4:31 p.m.
Natural wildlife habitats are often integrated into developments that occur in Strathcona County. Storm water catchment basins, right of ways and parks areas also allow many species of wildlife to move freely in proximity to humans. People generally have an appreciation for the biodiversity that exists, but should be aware of the potential challenges that could arise.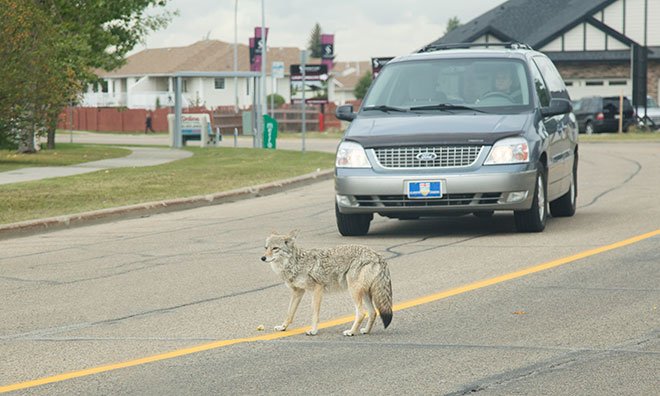 Prevent wildlife on your property
Understanding various animal behaviours and taking small preventative steps can help minimize negative interactions.
Here are few things you can do to deter wildlife and pests from your property:
Don't leave pet food or edible garbage out.
Clean up after your pet. Pet feces is an attraction for pests and predators.
Remove things that may attract them to your yard such as fallen apples or bird seed that entices rodents or birds.
Manage compost to prevent wildlife access.
Talk to your neighbours about following the same steps.
---
Support for wildlife concerns
Having wildlife in developed areas has its advantages, as some species prey on pests and nuisances that have adapted to human settlement. Understanding whether there are livelihood, health or safety issues helps determine if intervention is required.
Depending on the animal or the type of concern, the County may be able to provide advice or support. This could include public education, warning signs, or tips on trapping or other deterrent options.
In some cases, provincial or federal legislation guides how different wildlife and pest concerns can be managed, and who is responsible.
For more information or advice about managing interactions with specific wildlife, please click on them below.
County Connect
Ask a question, provide feedback or report an issue.