"If developed effectively, tourism has the potential to have a significant diversifying effect on the economic base of Strathcona County."
---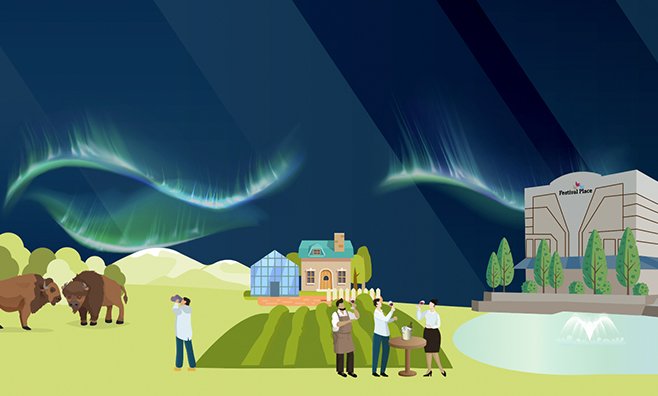 Forward together: tourism in Strathcona County
May 3, 2023
9:00 a.m. to 4:00 p.m.
Ardrossan Recreation Complex
If your business regularly sees customers more than 40 kilometers from their homes, this is the place to learn more about working in the tourism industry.
In 2019, Alberta saw more than $10 billion in tourism expenditures, which helped contribute to the more than 82,000 full-time jobs across the province, with a return to these levels expected in 2023. In the central region of Alberta, most people were coming to either visit friends and relatives or for pleasure. The most popular activities for overnight visitors included going to restaurants, shopping, and sightseeing. If you have a business with visiting customers that do any of these things - you might be counted in the tourism industry.
Strathcona County completed a tourism strategy in 2020 and a subsequent product development plan in 2022 to help businesses develop and offer tourism experiences to visitors. If developed effectively, tourism has the potential to have a significant diversifying effect on the economic base of Strathcona County.
Tourism is a collective effort, and this conference is a way to bring people together to learn from each other to be more effective in attracting visitors to the region. There will be plenty of opportunities for networking throughout the day between the agenda schedule to facilitate connections and new partnerships. Speakers with a wealth of knowledge will share valuable insight on how to be more effective when working within the visitor economy. The keynote speaker to wrap up the day will be sharing their story of how hard work and willingness to adjust their business has led to success in attracting a wide audience of clientele.
More information, including the schedule and speakers, can be found at the Eventbrite page below.
---
Tourism Strategy and Implementation Plan
Our vision: within 10 years, Strathcona County will be known as a place where visitors can come to enjoy compelling nature-based offerings, authentic agritourism activities, and immersive cultural experiences, along with other opportunities like sports tourism, and festivals and events.
The strategy will help us understand what Strathcona County and the business community can do to support the community and economy through tourism. 
---
Product Development Plan
Upon completion of the Tourism Strategy, it was recommended that the next step be to complete a tourism product development plan. Businesses and organizations that offer activities, products, concepts, or experiences that attract visitors were consulted to generate ideas to spur tourism product development.
Final Tourism Product Development Plan (10.6 MB)