Gallery@501 presents a fresh view on landscape art
March 3, 2023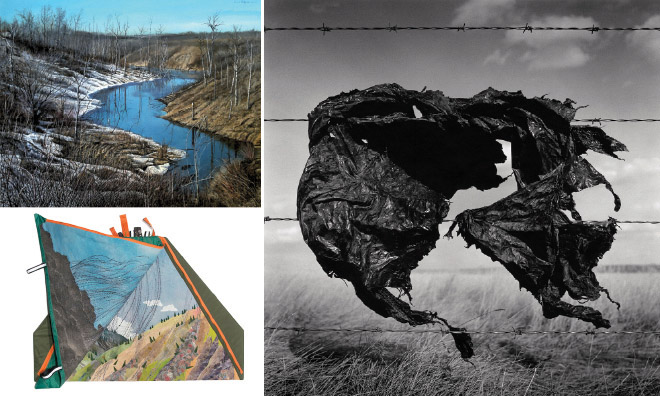 Artwork credit: "Snag – 11th Avenue N.E., Medicine Hat, AB, Canada" by Wes Bell, gelatin silver print, 2015. "Slide" (open), by Bettina Matzkuhn, synthetic cloth, reflective tape, zippers, linen, fabric collage, paint, embroidery, plywood, 2021. "121st Ave, NE" by Peca Rajkovic, oil on canvas, 2021.
Strathcona County is pleased to present two exciting new exhibitions focused on landscapes and our connection to the land.
"Passing Through", an exhibition featuring the artwork of three artists from Western Canada opens at Gallery@501 on March 11 and shows until April 22, 2023. This exhibit brings together artwork that captures expressions of human interaction and impact on the land. This exhibit transforms familiar and traditional notions of landscape into personal perspectives, revealing interactive storytelling, beauty in survival, and intense emotional memory.
Bettina Matzkuhn, an artist from Vancouver, British Columbia, designs mixed media and fibre art pieces inspired by her hikes through the backcountry. Using fabrics, backpack frames, threads and more, Matzkuhn creates interactive stories of environmental impacts and stewardship, consumption of goods and climate change.
Born in Belgrade, Serbia, Yugoslavia, Peca Rajkovic now lives in Edmonton where he works with traditional painting and drawing techniques to share contemporary stories of the land. Focusing on the boundaries where the wild untouched edges of the land meet human development and impact, Rajkovic captures beauty and survival in nature.
Moving from a career in fashion to fine art, photographer Wes Bell from Medicine Hat expresses the essential beauty of focused fragments of interaction between humans and nature. Bells' photos reveal layers of meaning through their striking black and white format connecting to emotional memories, impermanence and human impact on the land.
Also opening on March 11 and showing until April 22, 2023, is local Edmonton artist Karen McCallum's exhibit "Rooted in the Ravine".  McCallum has incredible talent in portraying the stunning landscapes of Alberta through painting. Incorporating unique viewpoints in her work, Karen layers colours to capture shimmering light to surround the viewer in the beauty of forest ravine areas in Edmonton.
The public is invited to join the exhibiting artists at an opening reception on Friday, March 17, 2023 at 6:30 p.m. at Gallery@501 (#120, 501 Festival Avenue, Sherwood Park). This event and admission to the gallery is free.
For more information, visit strathcona.ca/ArtGallery.
- 30 -
 
Contact: Strathcona County Communications, 780-410-6595